HOW COULD THINKING ABOUT OTHER RELIGIONS BE ENRICHED BY THE PRIESTHOOD OF CHRIST?
Gerald O'Collins

Australian Catholic University and University of Divinity, Melbourne
Keywords:
Christology, Hebrews, High Priest, New Covenant, Sacrosanctum Concilium, Salvation, Theology of Religions, Vatican II
Abstract
Since the Second Vatican Council (1962–65), much has been written on the theology of religions and, in particular, on the question of salvation reaching those who follow other faiths. This article starts from Vatican II's Constitution on the Sacred Liturgy, Sacrosanctum Concilium, and the Letter to the Hebrews, and presents the priesthood of Christ as a high[1]priestly intercession that mediates salvation to all human beings and establishes a new covenant for all people. The article also draws on the letters of St Paul and the Gospel of John to emphasize the high[1]priesthood of Christ and propose a Christology of religions, which is developed at full length in the author's A Christology of Religions (Maryknoll, NY: Orbis Books, 2018).
References
A. Vanhoye, Old Testament Priests and the New Priest, Petersham, MA: St Bede's Publications, 1986, 14.

A.T. Lincoln, The Gospel According to John, London: Continuum, 2003, 330-31.

C.R. Koester, Hebrews, New York: Doubleday, 2001

G. O'Collins and M.K. Jones, Jesus Our Priest, Oxford: Oxford University Press, 2010, 1–68.

G. O'Collins, A Christology of Religions (Maryknoll, NY: Orbis Books, 2018) treats this theme much more fully.

G. O'Collins, Salvation for All: God's Other Peoples, Oxford: Oxford University Press, 2008, 248-59.

J.A. Fitzmyer, Romans, New York: Doubleday, 1993, 341-59.

J.M. Scholer, Proleptic Priests: Priesthood in the Epistle to the Hebrews, Sheffield: Sheffield Academic Press, 1991.

P.T. O'Brien, The Letter to the Hebrews, Grand Rapids, MI: Eerdmans, 2010.

R.C. Bauckham et al., eds., The Epistle to the Hebrews and Christian Theology, Grand Rapids, MI: Eerdmans, 2009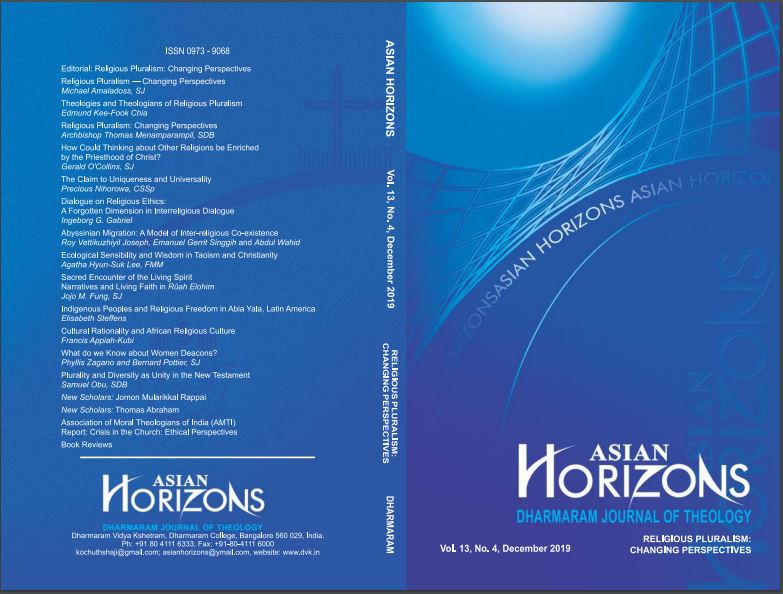 How to Cite
O'Collins, G. (2019). HOW COULD THINKING ABOUT OTHER RELIGIONS BE ENRICHED BY THE PRIESTHOOD OF CHRIST?. Asian Horizons, 13(04), 533-542. Retrieved from https://dvkjournals.in/index.php/ah/article/view/3836