THEOLOGIES AND THEOLOGIANS OF RELIGIOUS PLURALISM
Edmund Kee-Fook Chia

Australian Catholic University, Melbourne
Keywords:
Anthony de Mello, Dominus Iesus, Jacques Dupuis, John Hick, Joseph Ratzinger, Paul Knitter, Raimon Panikkar, Tissa Balasuriya
Abstract
Theologies to apprehend the phenomenon of religious pluralism continue to be evolving, with Asian theologians playing significant roles. Within the Catholic Church this was viewed as problematic in the 1990s, culminating with the Vatican promulgating the declaration Dominus Iesus. It alleges that relativistic theories have been advanced in the context of the praxis of interreligious dialogue. To counter them, Dominus Iesus reaffirms the doctrines of the uniqueness and universality of Jesus Christ and the Church. The present article looks at this, offering a view of the theologies of those accused of promoting relativism, as well as those who were sanctioned by the Roman Curia, most of whom were from Asia or associated with the continent. The article is premised on the thesis that Asian theologians are best positioned to be at the forefront of evolving the theologies of religious pluralism and the investigations into their works can be seen as validation of the thesis. 
References
"Bishops Note Room for 'Theological Inquiry' in Toning Down Dominus Iesus," UCAN (3 May 2001).

"Justice Denied, Delayed, Truth Exposed...," 11.

An Interpretation of Religion: Human Responses to the Transcendent, New Haven, Conn.: Yale University Press, 1989.

Archbishop Theodore McCarrick, "The Bishops Comment on Dominus Iesus, A Compilation: Ways of Misunderstanding this Document," Origins, CNS Documentary Service (12 September 2000), http://www.originsonline.com/.

Congregation for the Doctrine of the Faith, "Dominus Iesus," http://www.vatican.va/roman_curia/congregations/cfaith/documents/rc_con_cfa ith_doc_20000806_dominus-iesus_en.html

Edmund Chia, World Christianity Encounters World Religions: A Summa on Interfaith Dialogue, Collegeville, MN, USA: Liturgical Press, 2018, chapter entitled "Contemporary Theologies of Religious Pluralism."

Jacques Dupuis, Toward a Christian Theology of Religious Pluralism, Maryknoll, NY: Orbis, 1997, 10-11.

John Hick, God and the Universe of Faith: Essays in the Philosophy of Religion, London: Macmillan, 1973

John O'Malley, Tradition and Transition: Historical Perspectives on Vatican II, Delaware: Michael Glazier, 1989, 17.

Joseph Ratzinger, "Reasons for the Christian Claim," Remarks made by the Prefect of the Congregation for the Doctrine of the Faith at the Presentation of the Church document Dominus Iesus (Press Room of the Holy See, September 5, 2000), https://english. clonline.org/news/current-events/2000/05/09/reasons-for-the-christian-claim

Paul F. Knitter, No Other Name? A Critical Survey of Christian Attitudes toward World Religions, Maryknoll, NY: Orbis Books, 1985

Pope Paul VI, On the Ways in which the Church must Carry out its Mission in the Contemporary World, (Vatican City, 6 August 1964), http://www.vatican.va/holy_ father/ paul_vi/encyclicals/documents/ hf_p-vi_enc_06081964_ecclesiam_en.html.

Raimon Panikkar, The Intrareligious Dialogue, Mahwah, NJ: Paulist Press, 1978, 40.

Raimon Panikkar, The Unknown Christ of Hinduism: Towards an Ecumenical Christophany, London: Darton Longman & Todd, 1964.

Tissa Balasuriya, "Mary and Human Liberation," Logos 29 (March/July 1990).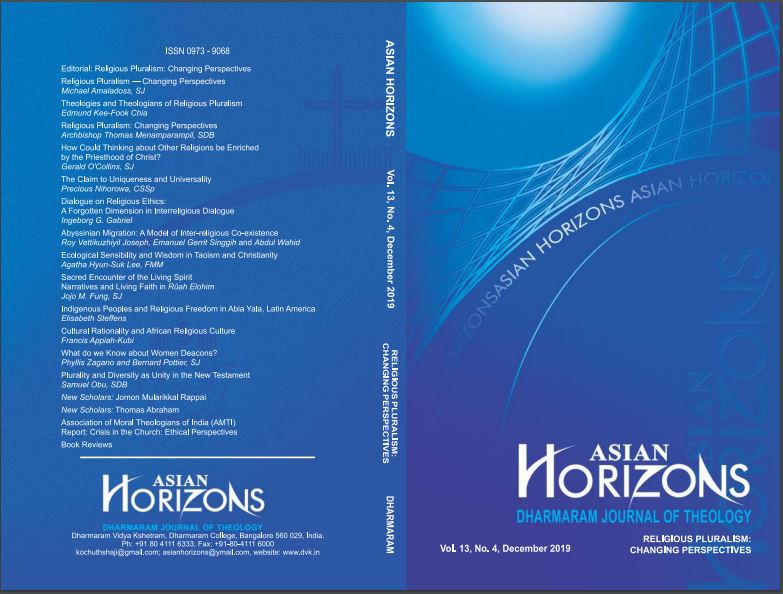 How to Cite
Chia, E. K.-F. (2019). THEOLOGIES AND THEOLOGIANS OF RELIGIOUS PLURALISM. Asian Horizons, 13(04), 501-514. Retrieved from https://dvkjournals.in/index.php/ah/article/view/3834