RELIGIOUS PLURALISM — CHANGING PERSPECTIVES
Michael Amaladoss

Institute of Dialogue with Cultures and Religions, Chennai
Keywords:
Buddhism, Christianity, Communalism, Dominus Iesus, Fundamentalism, Hinduism, Interreligious Dialogue, Islam, Religion, Religious Pluralism
Abstract
Religious pluralism is a fact of life. It can be approached from different points of view like sociological, political and religious. Here a religious point of view is adopted. Two factors that condition the way that religions look at each other are fundamentalism and communalism. Fundamentalism holds on to what it considers the fundamentals of its faith when it is under attack from scientism and other ideologies. Communalism thinks that the people who share a religion also share the same economic and political interests. A philosophical approach to religious pluralism speaks of exclusivism, inclusivism and pluralism. But from a religious point of view each religion has its own approach. Traditional Islam was open to and tolerant of other religions, especially Judaism and Christianity. Hinduism sees all religions as ways to the same goal. Buddhism considers the religions as preparations to its own eightfold path. Christianity in Asia has learnt to be open to other religions in dialogue. Such an open attitude has now become official with Popes John Paul II and Francis.
References
Austin Flannery, ed., Vatican Council II. The Conciliar and Post-Conciliar Documents. Bombay: St Paul Publications.

For All the Peoples of Asia

J. Monchanin and H. Le Saux, A Benedictine Ashram, Douglas: Isle of Man, 1964.

John Paul II, The Mission of the Redeemer. Cf. http://www.vatican.va/content/ john-paul-ii/en/encyclicals/documents/hf_jp-ii_enc_07121990_redemptorismissio.html

P. Johanns, To Christ through the Vedanta, Ranchi, 1944.

Karen Armstrong, A History of God, London: Vintage, 1999, 278-279.

Rajmohan Gandhi, Understanding the Muslim Mind, New Delhi: Penguin, 1987, 223.

Seyyed Hossein Nasr, Sufi Essays, New York: Schocken, 1977, 149.

The Gospel of Ramakrishna, 35 and 5.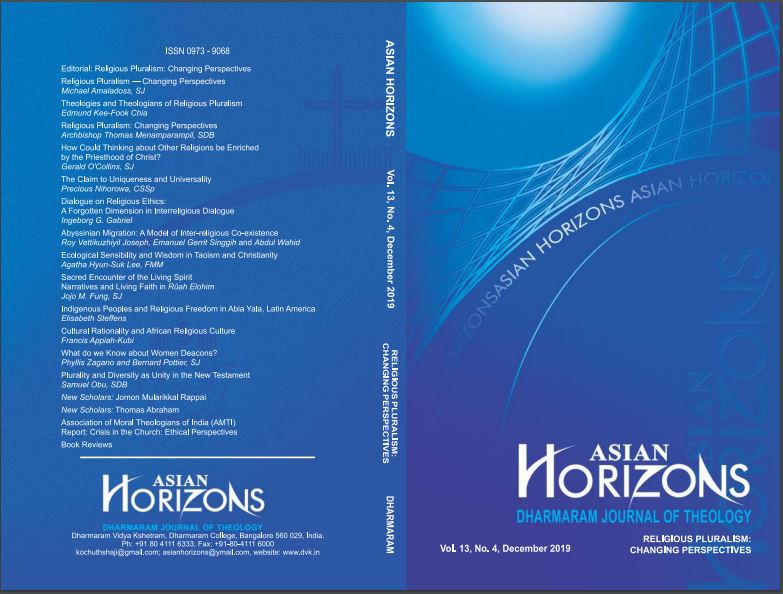 How to Cite
Amaladoss, M. (2019). RELIGIOUS PLURALISM — CHANGING PERSPECTIVES. Asian Horizons, 13(04), 491-500. Retrieved from https://dvkjournals.in/index.php/ah/article/view/3833