COVID 19 & THE LIFE OF THE CHURCH: THEOLOGICAL-ETHICAL CHALLENGES
Keywords:
Digital Media, Death, Deus Absconditus, Eco System, Eucharist, Healthcare Mission, Human Family, Quarantine, Solidarity, Pandemic, Vaccines
Abstract
Covid 19 was a game-changer in many ways. The life of the Church underwent tectonic shifts because of the challenges this pandemic posed. The Church as the body of Christ faced a real faith crisis. The fear of death loomed large and the very proximity of a human person became suspicious. We became prisoners of virtual reality but at the same time, we were forced to find God more in the digital space. Many of the faithful were glad to embrace the God of the gigabytes who quenched their spiritual thirst with voluminous online and offline reservoirs. The human person was forced to deal with the catastrophes of his own making and the global community became one in understanding the power of nature. The pandemic brought out the good Samaritan in all of us and the dedicated services of our healthcare personnel were lauded beyond measures. Though the fault lines of humanity are exposed, it is also time that we come together to work more in solidarity.
References
Centre caps vaccine prices; Covishield at Rs 780, Covaxin Rs 1410, in Times of India, Jun 8, 2021. See: https://timesofindia.indiatimes.com/india/centre-caps-vaccine-prices-covishield-at-rs-780-covaxin-rs-1410/articleshow/83343406.cms. Accessed on 7th August 2021.

Damian Carrington, Environment editor, Pandemics result from destruction of nature, say UN and WHO, Wed 17 Jun 2020, The Guardian. See: https://www.theguardian.com/world/2020/jun/17/pandemics-destruction-nature-un-who-legislation-trade-green-recovery. Accessed on 7th August 2921.

James F. Keenan, Moral Wisdom Lessons and Texts from the Catholic Tradition, Plymouth: Rowman & Littlefield Publishers, Inc., 2010, 53.

Jordan Fenster, Analysis: 6 animal species dying because of COVID in https://www.ctpost.com/news/coronavirus/slideshow/Analysis-6-animal-species-dying-because-of-COVID-210593.php. Accessed on 7th August 2021.

Jurgen Moltmann, The Crucified God, The Cross of Christ as The Foundation and Criticism of Christian Theology, Minneapolis: Fortress Press, 1993, 270–274.

Michael Amaladoss, Televised Masses During A Pandemic Vidyajyoti Journal of Theological Reflection84, 6 (June 2020) 430 – 437.

Natasha Daly, Exclusive: Buddy, First Dog to Test Positive for COVID-19 in the U.S., has Died, July 30, 2020 in National Geographic, https://www.nationalgeographic.com/animals/article/first-dog-to-test-positive-for-Covid-in-us-dies, accessed on 7th August 2021.

Pope Francis, Fratelli Tutti (Brothers and Sisters All) Encyclical Letter on Fraternity and Social Friendship, Mumbai: St Paul's, 2020, Nos. 33, 34, 43.

Prakash Louis, Covid 19: A Testing Time for the Shepherds of the Indian Church, Vidyajyoti Journal of Theological Reflection 84, 7 (July 2020) 508.

Regina Ammicht Quinn, "Handle with Care: Fragile Humans, a Pandemic, and the Legacy of the European Enlightenment," Jeevadhara LI (2021) 301, at 27.

Saba Aziz, "Why 'Physical Distancing' is Better than 'Social Distancing," in Al Jazeera, https://www.aljazeera.com/news/2020/3/30/why-physical-distancing-is-better-than-social-distancing, 30 March 2020, accessed on 15th July 2021.

T.S. Eliot, The Waste Land, ed, Michael North, London: W.W. Norton & Company, 2001, 5.

The New Neighbourhood Watch, Reader's Digest—Coronavirus Special, 2020, 43.

Vinayak Jadav, Nearer, "My God, to Thee Finding God in the Second Wave," Jivan (June- July 2021) 3.

Walter Brueggemann, The Prophetic Imagination, Minneapolis: Fortress Press, 2018, 3.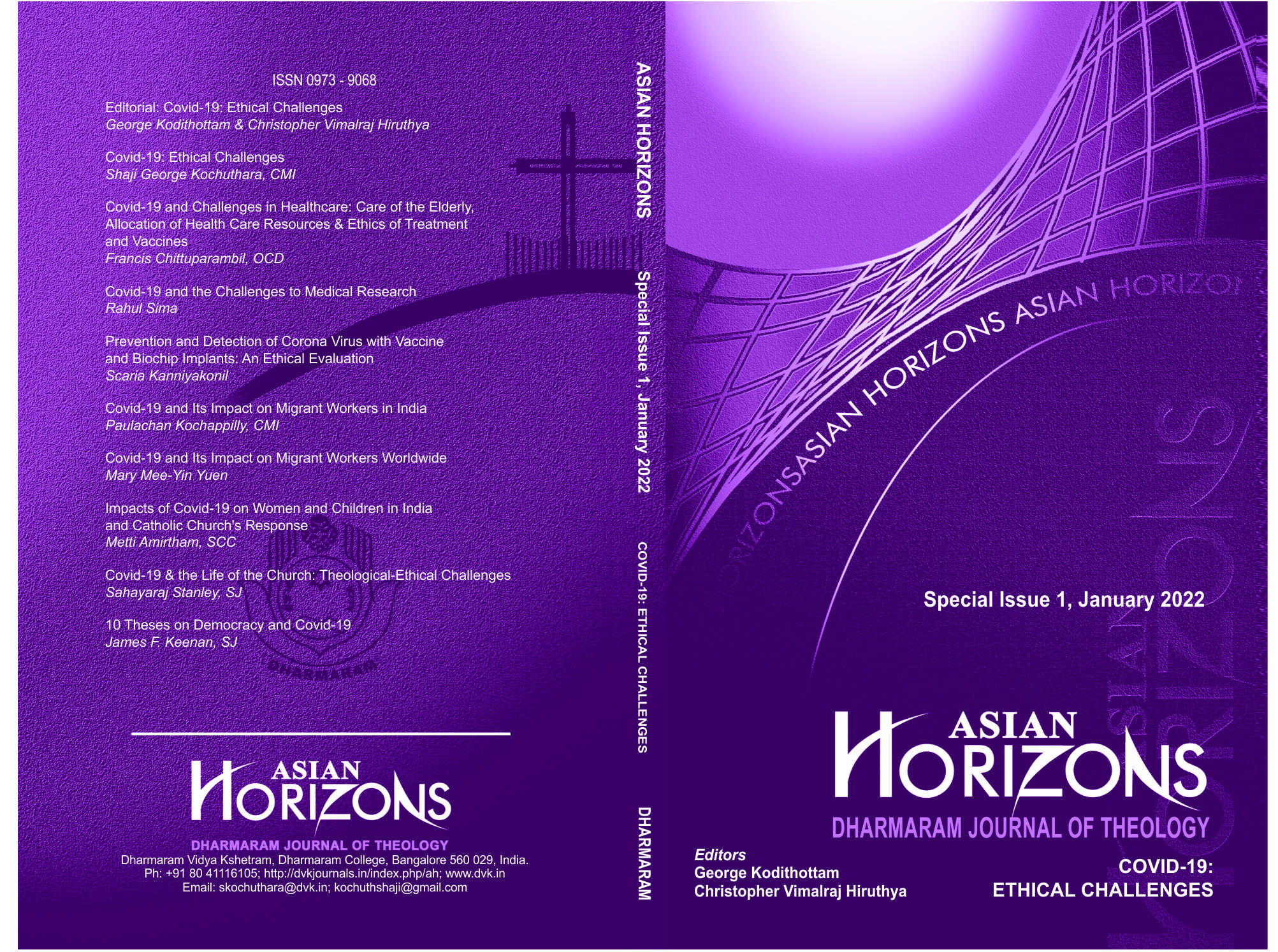 How to Cite
Stanley, S. (2022). COVID 19 & THE LIFE OF THE CHURCH: THEOLOGICAL-ETHICAL CHALLENGES. Asian Horizons, (1), 101-114. Retrieved from https://dvkjournals.in/index.php/ah/article/view/3729