PRACTICING DEMOCRACY: UPHOLDING HUMAN RIGHTS AND THE RIGHT TO SOCIAL AND POLITICAL PARTICIPATION IN HONG KONG
Mary Yuen

Holy Spirit Seminary College, Hong Kong
Keywords:
Catholic Church in Hong Kong, Democracy, Democratic Movement, Ethics of Governance, Hong Kong Protest, Political Participation
Abstract
This article examines the key elements of practicing democracy by people and rulers from the perspective of the Catholic tradition, with Hong Kong's recent social movement as an example. It demonstrates how Hong Kong people practice democracy through political participation in a diversity of ways, through public rallies, art, singing, expression through their professions and affinity groups, and so on. However, the government failed to uphold the rule of law and the basic human rights of people, especially freedom of expression and protecting personal safety of people. This article also shows, during the social movement, how Catholic Church leaders, pastors, church organizations and individual Christians exercised their rights and responsibilities of political participation through a variety of means. At the end, the article points out that in the present situation, with a new national security law, the prospect of setting up authentic democratic structures of participation in Hong Kong is dimmed. However, Christians should not give up hope. Christians need to deepen their understanding of democratic values rationally, to feel the suffering of people with compassion affectively, and to keep practicing participation and solidarity in their daily lives. Strengthening the inner self through the practice of contemplation and joining faith and/or civic communities are important.
References
"Bishop Ha Praying the Rosary, Independent Inquiry Needed for Reconciliation in Hong Kong," Asia News, 21 October 2019.

"Mass Held after Hong Kong Protest Turns Violent," UCA News, 13 June 2019; "Catholic Leaders Join Massive Hong Kong Protest," UCANews, 17 June 2019; "Church Walks with Protestors," Sunday Examiner, 28 June 2019.

"Pope Calls Faithful to Pray, Participate Actively in Politics," Catholic News Agency, 16 September 2013, https://www.catholicnewsagency.com/news/pope-calls-faithful-to-pray-participate-actively-in-politics

Adolfo Arranz, "Arrested Hong Kong Protesters: How the Numbers Look One Year On," South China Morning Post, 11 June 2020.

All press release of the diocese can be found on the website of the Catholic Diocese of Hong Kong, https://catholic.org.hk/en/%e6%96%b0%e8%81%9e% e5%85%ac%e5%91%8a-2/

Alvin Lum and Jeffie Lam, "Hong Kong Bar Association Calls Government's Extradition Proposal a 'Step Backward', While Extradition Lawyer Says it Does Not Offer Sufficient Protections," South China Morning Post, 2 April 2019.

Benny Tai, "Return to Civil Society," Apple Daily, 17 November 2020, (in Chinese)

Cardinal John Tong, Pastoral Letter In Communion with the Church, 20 September 2020.

Catechism of the Catholic Church, 1881.

Chris Lau, "Government Loses Legal Battle over Police Identification during Hong Kong Protests, Court says Complaints System 'Inadequate,'" South China Morning Post, 19 November 2020.

Henri Nouwen, "Thomas Merton's Contemplation and Action," in John Dear, ed., The Road to Peace: Writings on Peace and Justice, Maryknoll, NY: Orbis Books, 1998, 196-199.

Hong Kong Catholic Diocese, "In the face of the extremely turbulent situation of Hong Kong at present triggered by the Extradition Bill, we strongly make the following appeal," 11 June 2019. https://catholic.org.hk/en/%e6%96%b0%e8% 81%9e%e5%85%ac%e5%91%8a-2/

Jeff Pao, "HK Medical Staff Rally Against Police Action," Asia Times, 27 October 2019; "Hundreds of Medical Staff Participate in Silent Sit-in Protest This Afternoon," Dimsum Daily, 2 September 2019.

Jeffie Lam, "Five Key Demands, Not One Less," South China Morning Post, 4 September 2019.

John Paul II, Centisimus Annus, 46.

John XXIII, Pacem in Terris, 26-27, 53-54, 57.

Kit-Wai Ma, "Hong Kong collective trauma and emotional short-circuit," Ming Po Daily News, 17 May 2020.

Kris Cheng, "Hong Kong Police used Crowd Control Weapons 30,000 Times since June; Over 6,000 Arrested," Hong Kong Free Press, 10 December 2019.

Lap-Fung Li, "After One Year, How will the Protest Movement Continue?" Ming Po Daily News, 11 June 2020 (in Chinese).

Lap-Fung Li, "Amendment of the Bill, Police Power, and Revolution of the Era—Examining the Focuses of the Movement through On-spot Survey," Ming Po Daily News, 8 September 2019 (in Chinese).

Mary Mee-Yin Yuen, "Cross-cultural Solidarity in the Pro-democratic Umbrella Movement of Hong Kong," in Yiu Sing Lucas Chan, James Keenan and Shaji George Kochuthara, ed. Doing Catholic Theological Ethics in a Cross-Cultural and Interreligious Asian Context, Bangalore: Dharmaram Vidya Kshetram, 2016, 97-110.

Mary Mee-Yin Yuen, "Political Crisis in Hong Kong and Ethical Response," in Kristin Heyer, James Keenan and Andrea Vicini, ed., Building Bridges in Sarajevo: Plenary Papers of CTEWC 2018, Maryknoll, NY: Orbis Books, 2019, 128-134.

Mencius, The Book of Mencius, 7B:14, 4A:20.

Nelson Chow, "How Much Time Do Hong Kong has in Collapsing?" Ming Po Daily News, 9 August 2019 (in Chinese).

Paul VI, Octogesima Adveniens, 46.

Pius XII, "Christmas Radio Message of 24 December 1944," AAS 37 (1945), 13. Cited in Pontifical Council for Justice and Peace, Compendium of the Social Doctrine of the Church, Vatican: Libreria Editrice Vaticana, 2004, 385.

Po-Heung Hui, "Assessing the Effectiveness of the Movement or Re-evaluating all values?" Ming Po Daily News, 14 June 2020.

Pope Francis, "Good Politics is at the Service of Peace," 52th Message of the World Day of Peace, 1 January 2019, 2, 3.

Pope Francis, Social Encyclical Fratelli Tutti, 2020, no. 99.

Ronald Rolheiser, The Holy Longing: The Search for a Christian Spirituality, New York: Doubleday, 1999, 68.

Second Vatican Council, Pastoral Constitution Gaudium et Spes, 25, 40, 74, 75.

The pamphlet on Anti-Extradition Bill Movement published by the Justice and Peace Commission of the Hong Kong Catholic Diocese, 22 December 2019.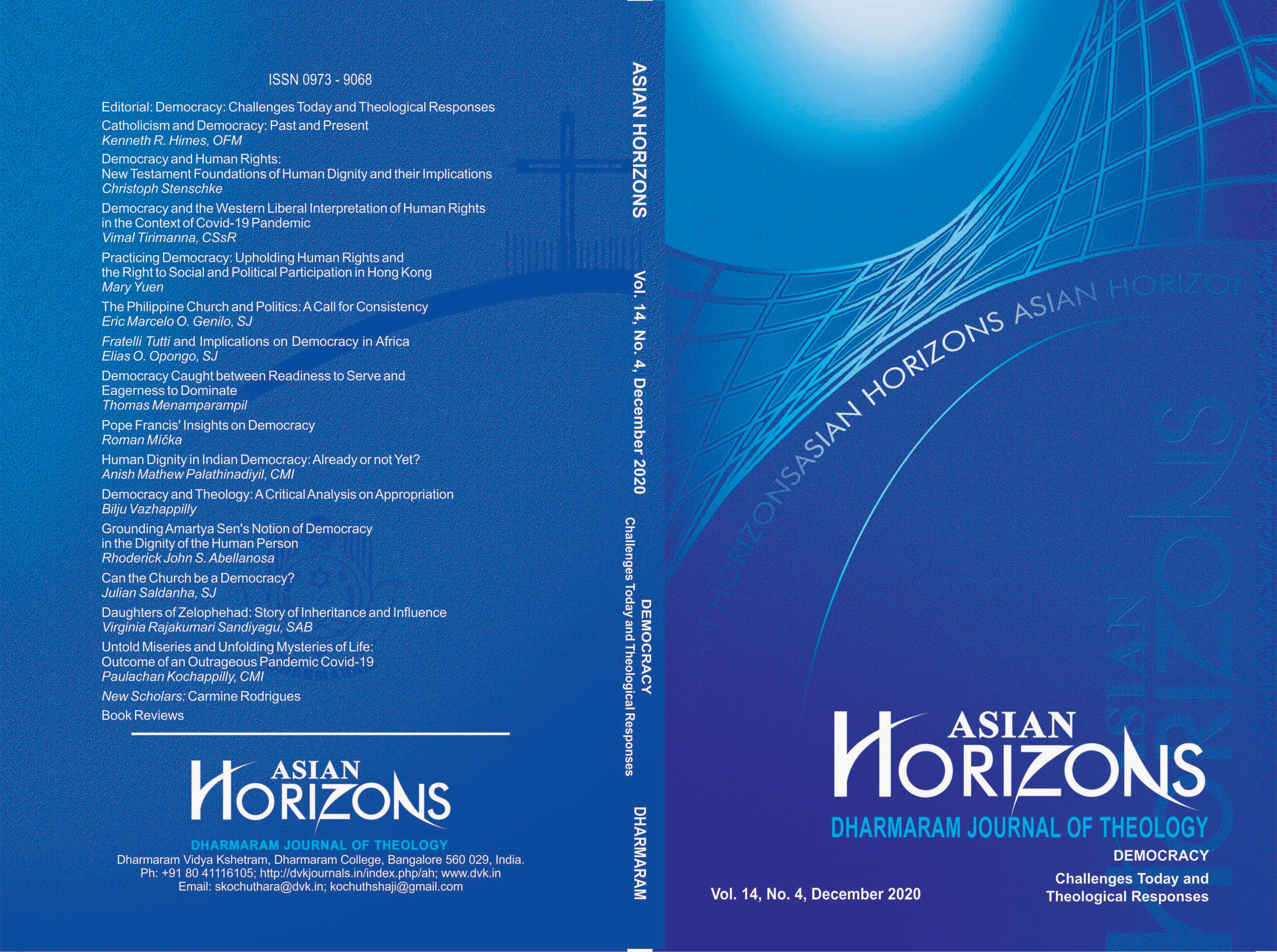 How to Cite
Yuen, M. (2020). PRACTICING DEMOCRACY: UPHOLDING HUMAN RIGHTS AND THE RIGHT TO SOCIAL AND POLITICAL PARTICIPATION IN HONG KONG. Asian Horizons, 14(4), 858–873. Retrieved from https://dvkjournals.in/index.php/ah/article/view/3622