NEW ECCLESIAL MOVEMENTS
HARNESSING THE NEW WIND OF MISSIONARY FERVOUR
Edward A Edezhath

St. Albert's College, Ernakulam
Keywords:
ECCLESIAL MOVEMENTS, MISSIONARY
Abstract
One of the notable reasons for the dynamism and vitality in many
dioceses and regions across the globe has been one or the other new
generation Catholic associations called Ecclesial Movements. They
are there in a variety of hues and forms all over the world, making
perceptible difference. To think of specific instances, there is Focolare,
founded in 1943 at Trent in Italy, having more than 5,000,000
adherents spread over 182 nations; Neocatechumenal Way had its
beginnings in Madrid and has now more than a million followers
around the world; the Catholic Charismatic Renewal with its
beginnings in the United States in 1967 has touched millions of lives
in almost all the countries of the world; there is Opus Dei,
Communion & Liberation, Couples for Christ, and host of other
movements now flourishing in the Catholic Church, making the
Mother Church ever more youthful and leading it to fresh and
verdant pastures.
References
John Paul II, "To members of ecclesial movements and new communities," at the vigil of Pentecost, L'Osservatore Romano (Spanish language edition), June 5, 1998.
Pontifical Council for the Laity: International Associations of the Faithful Directory.<http://www.vatican.va/roman_curia/pontifical_councils/ laity/documents/rc_pc_laity_doc_20051114_associazioni_en.html>.
Archbishop Stanislaw Rylko, "Ecclesial Movements and New Communities: the Response of the Holy Spirit to Today's Challenge of Evangelization," <http://www.piercedhearts.org/communion_hearts/ ecclesial_movements.htm> Accessed on 21 Sep.2010.
Pope: The Ecclesial Movements are Gifts for the Whole Church" Catholic Online <http://www.catholic.org/international/international_story. php?id=35092> on 24Dec.2009.
Giuseppe De Rosa, "The ecclesial movements today," La Civiltà Cattolica. June 19, 2004. Quoted by, Sandro Magister. "The Seven Capital Vices of the Movements"
<http://chiesa.espresso.repubblica.it/articolo/7057?eng=y> on 21Jan.2010.
Joseph Ratzinger (Pope Benedict XVI), New Outpourings of the Spirit: Movements in the Church, Trans. Michael J. Miller and Henry Taylor, San Francisco: Ignatius Press, 2006.
Rylko, "Ecclesial Movements and New Communities: the Response of the Holy Spirit to Today's Challenge of Evangelization,".
Vatican Statement on Legionaries of Christ." Zenti.org May 1, 2010. <http://www.zenit.org/article-29109?l=english>.
Antonio Maria Sicari, "Ecclesial Movements: A New Framework for Ancient Charisms," Communio: International Catholic Review (Summer 2002).
Allan Figueroa Deck, "Where the Laity Flourish," America: the National Catholic Weekly, Aug 14, 2006. <http://www.americamagazine.org/ content/article.cfm?article_id=4910>.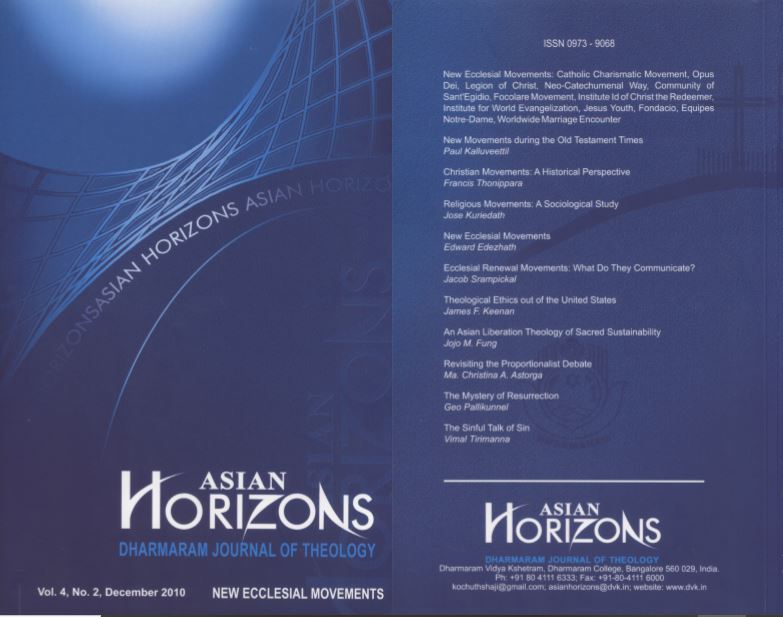 How to Cite
Edezhath, E. A. (2010). NEW ECCLESIAL MOVEMENTS. Asian Horizons, 4(02), 358-372. Retrieved from https://dvkjournals.in/index.php/ah/article/view/2749