HIV AND AIDS AND THE CHALLENGE TO CHRISTIAN MINISTRY
PROPOSING A CHRISTIAN ABC MODEL FOR HIV AND AIDS PREVENTION
Thomas Abraham

St Mary's Knanaya Church, Sharjah
Abstract
This study focuses on the reality and the consequences of Human Immunodeficiency Virus (HIV) and Acquired Immunodeficiency Syndrome (AIDS) and proposes a strategic communication method for preventing HIV and AIDS globally. Perhaps, the number of people infected and affected with this reality is increasing day by day and the situation is becoming more complex every year. It is an established fact that the problem has gone beyond medical confines. HIV and AIDS has permeated all strata of human situations and many people lose their life as the consequences. This study would help people understand the seriousness of this issue, various ethical issues involved in it, and in particular the issue of justice in relation to HIV and AIDS and the role of the Church to address this situation biblically, theologically, ethically and pastorally. This study also attempts to analyse in depth issues like stigma and discrimination, and meaning and purpose of human sexuality. The main purpose of this study is to propose a new model of ABC, that is, 'Abstinence, Be faithful with one partner and Communicating good sex to people of all age group,' for preventing HIV and AIDS. It is a critique of the existing Ugandan model of ABC, where 'C' stands for Condom use. Since HIV spreads mainly through sexual route, behavioural change is probably the most effective way to control the transmission of HIV. This study is limited to the Christian response to HIV and AIDS on the biblical and theological basis.
References
Ronlad Lalthanmawia, "HIV and AIDS: A Medical Problem," in HIV and AIDS Towards Inclusive Communities: A Theological Reader, ed. Philip Kuruvilla and Wati Longchar, Delhi: ISPCK, 2013.
"NACO- Annual Report 2012-2013," http://www.naco.gov.in/upload/ Publication/Annual% 20 Report/Annual% 20report%202012-13_English.pdf. Accessed on 7th February 2016.
David Jamieson and Scott E. Kellerman, "The 90 90 90 Strategy to End the HIV Pandemic by 2030: Can the Supply Chain Handle it?" Journal of the International AIDS Society 19, 1 (June 2016)
Stephen Muoki Joshua, "The Dowling Controversy, the 'Message of Hope' and the Principle of Oikonomia: A Historical-Critical Reflection on the South Africa Catholic Church's Stance on the Use of Condoms in HIV Prevention between 2000 and 2005," Journal of Theology for Southern Africa 137 (July 2010) 9.
Harry N. Hollis, "The Church Helping the Family in Sex Education," Review and Expositor 75, 1 (February 1978).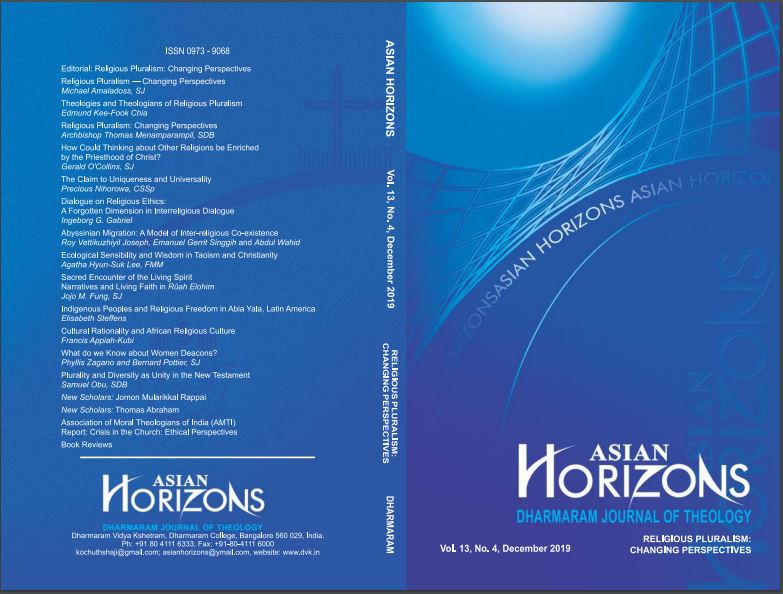 How to Cite
Abraham, T. (2019). HIV AND AIDS AND THE CHALLENGE TO CHRISTIAN MINISTRY. Asian Horizons, 13(04), 679-684. Retrieved from https://dvkjournals.in/index.php/ah/article/view/2286