ECOLOGICAL SENSIBILITY AND WISDOM IN TAOISM AND CHRISTIANITY
AN ENCOUNTER OF CHUNG TZU AND FRANCIS OF ASSISI
Agatha Hyun-Suk Lee

Catholic Catechetical Institute, Seoul and Suwon
Keywords:
Deep Ecology, Equality, (萬物制動), Gratuitousness of Life, Human Ignorance, Inner Discipline, Tao, Trinity, Universal Fraternity, (大通)
Abstract
Chuang Tzu and Francis of Assisi, despite differences in cultural and historical contexts, show us ecological sensibility and wisdom. This is deep ecology which may be one of the solutions to the global warming crisis. According to both of them, the existence of all things in nature, including humans are gratuitously given. All of these entities are interconnected with each other as in the world of quantum physics. From this perspective, we have to realize human's position and our entrusted responsibility to take care of our planet and home, Earth. This is the true way to cope with the ecologic crisis and improve our quality of lives. It requires a fundamental change in human's life in this technologically developed and material-centred world. It is impossible to change only with human effort, but can be made possible through the grace of the transcendent Being.
References
Hyun-Suk Lee Fmm, La Liberta' Spirituale nel Taoismo e Cristianesimo: Un'incontro tra Chuang-tzu e Francesco di Assisi, Estratto della Disseratione per il Dottorato nella Facolta' di Missiologia della Pontificia Universita' Gregoriana, Roma 2007
Chuang-tzu: The Interior Chapters, cap. II, Interpreted by Haun Yuong Dk, Seoul: Hong Sin Mun Hwa 2003.
Chuang-tzu: The Exterior Chapters, cap. XII, 8 (translation from Chinese into Korean, Interpreted by Kwon O. Sok, Seoul: Hong Sin Mun Hwa, 2002.
Chuang-tzu: The Miscellaneous chapters, Translation from Chinese into Korean, Interpreted by Choi Dea Lim, Seoul: Hong Sin Mun Hwa 1998.
The Earlier Rule 23, in St. Francis of Assisi: Writings and Early Biographies: English Omnibus of the Sources of the Life of St. Francis (2 Volume), Chicago: Franciscan Herald Press, 1983.
Tao-Te-Ching, 25, Interpreted by Sang Dae Kim, Seoul: National Sources Center, 1996.
I-ching I, Gyesajeon, 12, Interpreted by Ghi Dong Lee, Seoul: Sungkyun Kwan University Press, 2016.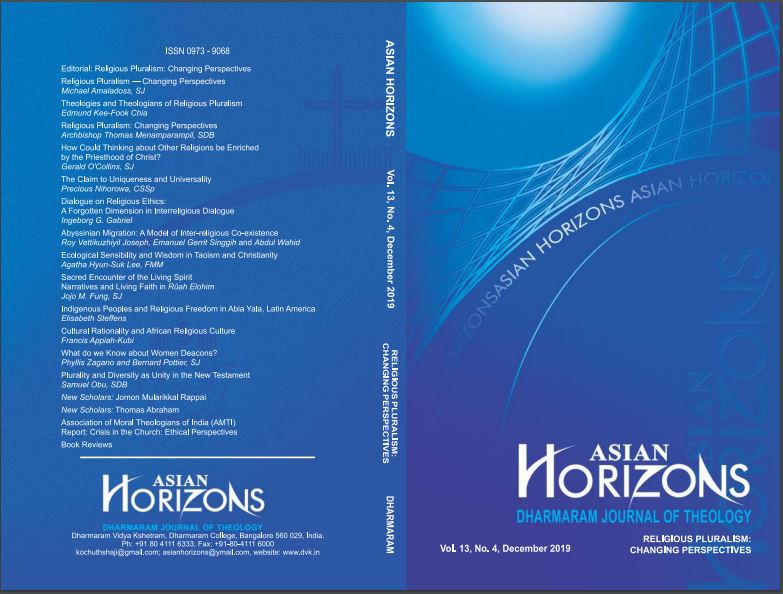 How to Cite
Lee, A. H.-S. (2019). ECOLOGICAL SENSIBILITY AND WISDOM IN TAOISM AND CHRISTIANITY. Asian Horizons, 13(04), 591-606. Retrieved from https://dvkjournals.in/index.php/ah/article/view/2255