THE FAMILY AS MODEL FOR A LAY-CENTERED CHURCH
Keywords:
Domestic Church, Family, Household of God, Lay-Centred Church, Lay Ministries, Mission
Abstract
How could a lay-centred church come about in our time? With the challenges of the pandemic caused by Covid-19, people were confined to their homes to stop the stemming of the virus. This situation prevented the people of God to attend in person the services in places of worship. Most, if not all, resorted to watching online Masses live streamed or uploaded in different platforms while others began to pray as a family. Indeed, the central role of family in shaping and sustaining the church has been highlighted in this context. The early form of being a church, namely, "household of God," which was totally lay in composition, is worth retrieving and revitalizing. The potential of empowering families as potent force for the church to move forward in its mission is reconsidered. Now, more than ever, the bond of love that permeates every good family, must inspire the same fellowship among the members of the institutional church. Afterall, is this not what Jesus reminded his followers to exemplify?
References
A statement of Bishop Villegas quoted by David Lozada, "#PopeFrancisPH: 4 Challenges Facing Filipino Families," in Rappler. Retrieved on June 8, 2020 at https://www.rappler.com/specials/pope-francis-ph/80148-pope-francis-filipino-family

Angela Casauy, "Over half of Filipino Families Consider themselves Poor– SWS," in Rappler. Retrieved on March 5, 2020 at https://www.rappler.com/ nation/79313-sws-survey-poverty-2014.

Anupama Rai Zutshi, "12 Popular Festivals in the Philippines," Retrieved from https://traveltriangle.com/blog/festivals-in-philippines/

Brad Henry, Retrieved from https://www.shutterfly.com/ideas/family-quotes/

Ester Menn, "Commentary on Genesis 29:15-28," Working Preacher (July 27, 2014), at https://www.workingpreacher.org/preaching.aspx?commentary_id=2150
http://factsanddetails.com/southeast-asia/Philippines/sub5_6c/entry-3877.html

J. de Mesa, "Re-rooting Mission in the Family," Mission Studies 1–2 (19 January 2002) 137–152.

J. de Mesa, Jose M. de Mesa: A Theological Reader, Manila: De La salle University Publishing House, 2016, 240.

J. de Mesa, Marriage is discipleship. Quezon City: East Asian Pastoral Institute, 1995, 137.

Jerry D. Lehman, Understanding Marriage, Family, and Intimate Relationships, New York: Charles C. Thomas, 2005.

Jim Taylor, "Is Technology Creating a Family Divide?" Psychology Today (March 13, 2013), https://www.psychologytoday.com/us/blog/the-power-prime/201303/ is-technology-creating-family-divide

John Paul II, Apostolic Exhortation, Familiaris Consortio (The Role of the Christian Family in the Modern World), November 22, 1981, n. 42.

Jose de Mesa and Rebecca Cacho, Becoming Church, Being Sacrament, Quezon City: C&E Publishing Inc., 2017, 68.

Karin Hadfield, "Structural Family Therapy Approach to Counselling Families," (2000), Retrieved from https://www.collectionscanada.gc.ca/obj/s4/f2/dsk2/ ftp01/MQ53097.pdf

M. Lawler & M. Roberts, ed., 1996. Christian Marriage and Family. Collegeville, Minnesota: The Liturgical Press, 1996, 61.

Pope Francis, Amoris Laetitia, Quezon City Philippines: Claretians Communications Foundation, Inc., 2016, 297–299.

Pope Paul VI, Evangelii Nuntiandi, #71. Retrieved June 8, 2022 at www.vatican.va

R. Michiels, "The Self-Understanding of the Church after Vatican II," Louvain Studies 14 (1989) 87–88.

Robert J. Waldinger, and Marc S. Schulz, "The Long Reach of Nurturing Family Environments: Links with Midlife Emotion-Regulatory Styles and Late-Life Security in Intimate Relationships," (2016), retrieved at https://journals.sagepub.com/ doi/abs/10.1177/0956797616661556

United States Conference of Catholic Bishops, "2014-2015 Synods of Bishops on the Family," in Marriage and Family Ministries, https://www.usccb.org/ topics/marriage-and-family-life-ministries/2014-2015-synods-bishops-family

United States Conference of Catholic Bishops, "Marriage and Family: Home of the New Evangelization," in New Evangelization Tool Kit. Retrieved on January 5, 2020 at http://www.usccb.org/beliefs-and-teachings/how-we-teach/new-evangelization/toolkit/marriage-family-home-new-evangelization.cfm.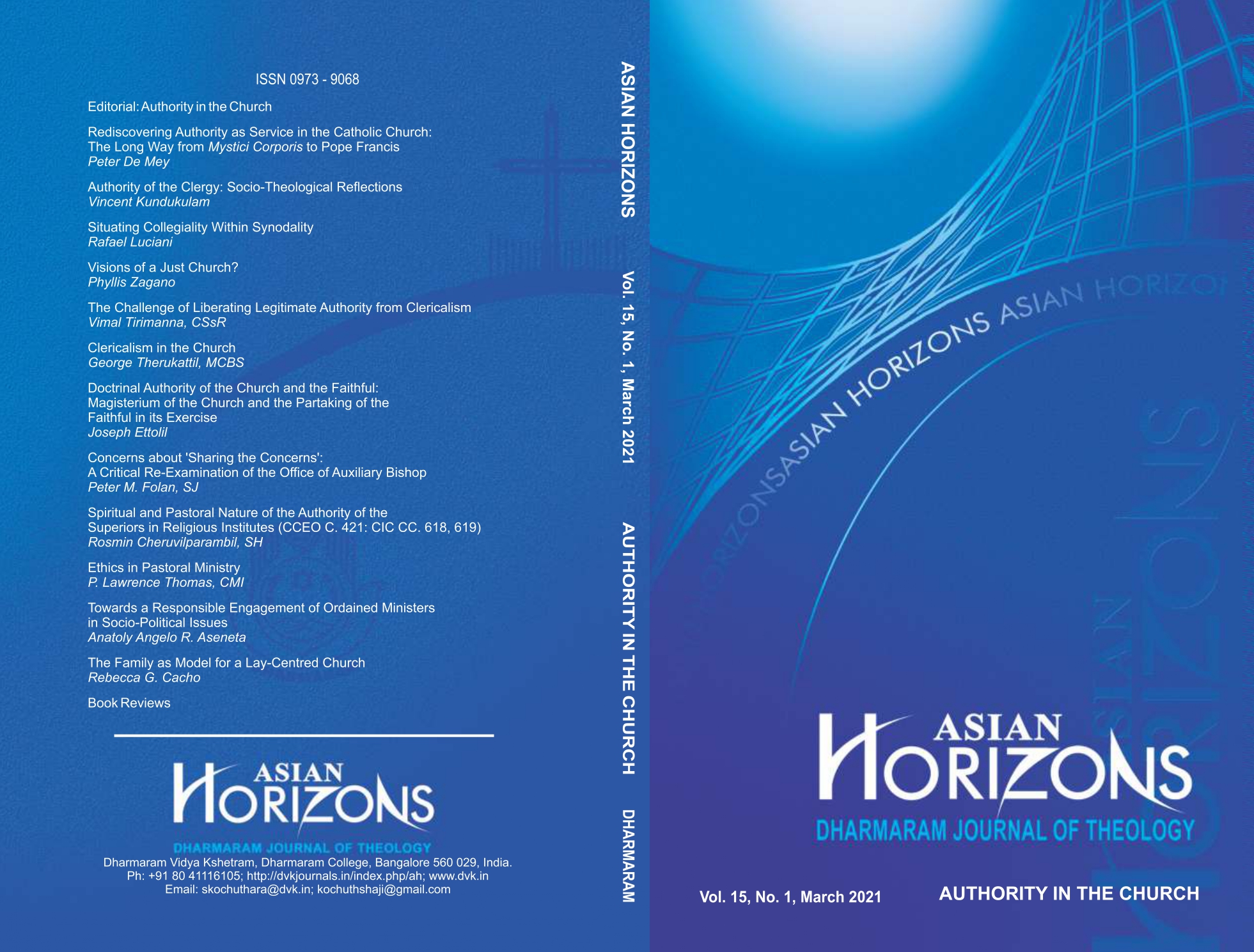 Downloads
How to Cite
Cacho, R. G. . (2021). THE FAMILY AS MODEL FOR A LAY-CENTERED CHURCH. Asian Horizons, 15(1), 174–193. Retrieved from https://dvkjournals.in/index.php/ah/article/view/3782