JESUS YOUTH
A Missionary Movement at the Service of the Church
Keywords:
JESUS YOUTH, Missionary, Church
Abstract
Jesus Youth is an international Catholic Youth Movement with a
charismatic spirituality which originated in Kerala, the picturesque
coastal state in the southernmost tip of India with its rich cultural
backdrop and Christian tradition of three different Catholic rites and
numerous other churches. In the 1970s the Catholic Charismatic
Renewal (CCR) touched the lives of many, young and old and
resulted in the formation of a number of youth groups. By the early
1980s, these groups had already matured into a vibrant presence. In
1985, the International Year of the Youth, these groups came together
under a single name, Jesus Youth, seeking a clearer vision for
themselves and for the wider participation of young people in the
Church. From its small beginnings in Kerala, Jesus Youth gradually
spread across the length and breadth of the country to have an active
presence in all the states of India. Over the years the movement has
spread to nearly twenty-five different countries around the world.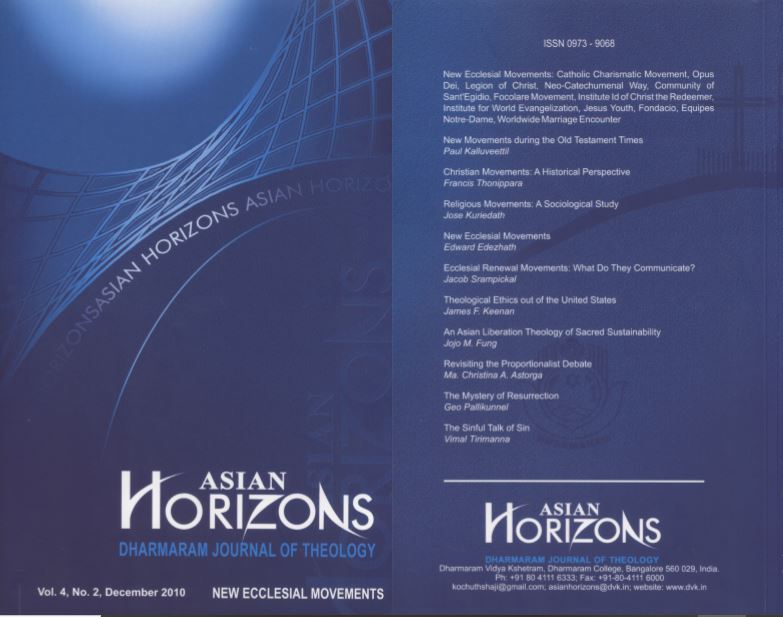 Downloads
How to Cite
Sunny, M., & Mooleparampil, A. (2010). JESUS YOUTH: A Missionary Movement at the Service of the Church. Asian Horizons, 4(02), 292–296. Retrieved from https://dvkjournals.in/index.php/ah/article/view/2689