THE CATHOLIC CHARISMATIC MOVEMENT
Keywords:
CATHOLIC, CHARISMATIC MOVEMENT
Abstract
The Catholic Charismatic Renewal (CCR) is not a single unified
worldwide movement like many other new movements in the
Church. It does not have a founder or a group of founders but it is
rather a sovereign work of the Holy Spirit. The grace of Charismatic
Renewal flowed out from Vatican II. In preparation for this
momentous Council, Pope John XXIII had prayed the prayer; 'Renew
your wonders in this our day as by a new Pentecost…' Two years
after the end of Vatican II we saw the rather spontaneous birth of
Catholic Pentecostalism or what we now know as Catholic
Charismatic Renewal. The origins are usually cited as a student
retreat in 1967 at Duquesne University in Pittsburg Pennsylvania,
USA. The students were reflecting upon Acts Chapters 1-4 and
praying the 'Veni Creator Spiritus. In the course of the retreat they
experienced an extra-ordinary outpouring of the Holy Spirit. Indeed,
they went on to testify that they had never before experienced the
power of the Holy Spirit, the love of God and joy in their hearts as
they did that day. This experience which became known as the
'baptism in the Holy Spirit' was the beginning of Catholic
Charismatic Renewal. The fire began to rapidly spread initially in the
US but then to other continents. Today it is estimated that there are
120 million people who would testify to a life-changing experience of
the Holy Spirit through their contact with the Catholic Charismatic
Renewal.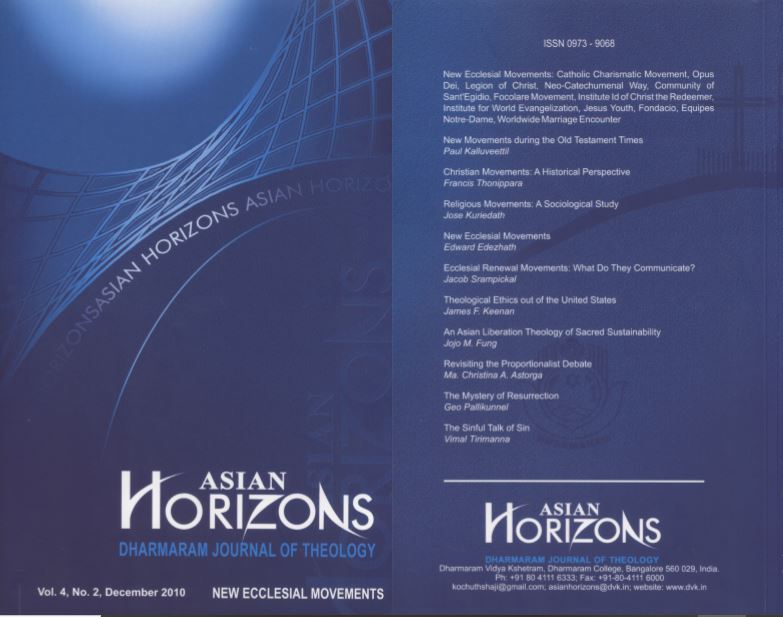 Downloads
How to Cite
Moran, M. (2010). THE CATHOLIC CHARISMATIC MOVEMENT. Asian Horizons, 4(02), 247–249. Retrieved from https://dvkjournals.in/index.php/ah/article/view/2641