DIALOGUE AND CONVERSATION: Humean Way of Doing Philosophy
Keywords:
Concept of Philosophy, Dialectics, Dialogue, Conversation, Method of Doing Philosophy, Truth
Abstract
David Hume's philosophy has invited often a lot of criticism because of its abstruse style and therefore earned very strong criticism from all the corners. In spite of the fact that he is often accused of sophism, inconsistency and contradictions his arguments are demanding and provoking and philosophers like Immanuel Kant acknowledges that "I freely admit that the remembrance of David Hume was the very thing that many years ago first interrupted my dogmatic slumber and gave a completely different direction to my researches in the field of speculative philosophy." This paper argues that a rereading of Hume's philosophy is worth doing because the traditional understanding fails to explore the rich possibilities of Humean philosophy. It is argued that without analysing his concepts of philosophy, truth and method of doing philosophy we cannot do justice to Hume's philosophy. This paper tries to show that Hume's concept of dialogical and conversational style of truth seeking is something very relevant, unique and promising.  
References
David Hume, The Natural History of Religion, ed. A. Wayne Colver, and Dialogues Concerning Natural Religion, ed. John Vladimir Price, Oxford: At the Clarendon Press, 1976.
Hume, A Treatise of Human Nature, L. A. Selby-Bigge edited, revised and notes by P. H. Nidditch, 2nd ed., Oxford: Oxford University Press, 1978, 455
Immanuel Kant, Prolegomena To Any Future Metaphysics, New York: Macmillan Publishing Company, 1987, 8.
Norman Kemp Smith, "Introduction," Hume's Dialogues Concerning Natural Religion, Oxford: Oxford University Press, 1935, 59.
Plato, Sophist, trans. Nicholas P. White in Plato Complete Works, ed. John M. Cooper, Indianapolis and Cambridge: Hackett Publishing Company, 1997, 238 - 243
Plato, Republic, trans. G. M. A. Grube and C. D. C. Reeve, in Plato Complete Works, ed. John M. Cooper, 539b-d.
Hume, The Letters Of David Hume, ed. J. Y. T. Greig, Vol. I, Oxford: ClarendonPress, 1969, 32
Hume, Letters Vol. I, 32
Annette C. Baier, A Progress of Sentiments: Reflections on Hume's Treatise, Cambridge, Massachusetts and London: Harward University Press, 1994, 1-2
Umberto Eco, The Name of the Rose, trans. William Weaver, London: Mandarin Paperback, Reed International Books Ltd. 1994, 491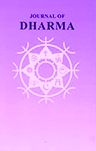 How to Cite
Mariadas, J. (2017). DIALOGUE AND CONVERSATION: Humean Way of Doing Philosophy. Journal of Dharma, 42(3), 249-270. Retrieved from https://dvkjournals.in/index.php/jd/article/view/250