INTERSECTIONAL ENVIRONMENTALISM
Toward an Indigenous Peoples-Inspired Planetary Ethics
Keywords:
Ecofeminism, Indigenous Peoples, Intersectional Environmentalism, Intersectionality, Philippines,, Sustainability
Abstract
"Indigenous Peoples" (IPs) are specifically mentioned in the 2030 Agenda for Sustainable Development. The SDGs advocate the empowerment, education, and engagement of IPs in the agenda's implementation, one of which is protecting the planet's natural resources and re-establishing a stable climate for next generations. UN Indicators suggest that IPs' experiences and rights are unique. IPs, however, criticize these indicators as unreflective of 'Indigenous definitions of well-being'. Intersectional environmentalists assert the same that various groups relate to the planet differently. We look at the IP agenda through the lens of intersectional environmentalism and its underlying ethics of trans-corporeality, broadly reflecting an ecofeminist disposition. With 85% of the Philippines' key biodiversity areas located within ancestral domains, the country's IPs' struggles exemplify a more balanced and sensitive approach to planetary sustainability, thus the need to support and expand IPs' planetary ethics.
References
Ahuja, Neel. "Colonialism." Gender. Ed. Stacy Alaimo. US: Macmillan Reference, 2017: 237-251.
Alaimo, Stacy. Bodily Natures. Science, Environment, and the Material Self. Bloomington: Indiana University Press, 2010.
Alaimo, Stacy. Exposed: Environmental Politics and Pleasures in Posthuman Times. Minneapolis: University of Minnesota Press, 2016.
Alaimo, Stacy, and Susan Hekman. Material Feminisms. Bloomington: Indiana University Press, 2008.
Bauhardt, Christine. (2017). "Economics." Gender. Ed. Stacy Alaimo. US: Macmillan Reference, 2017: 223-236.
Biana, T. Hazel. "Extending bell hooks' Feminist Theory." Journal of International Women's Studies 21.1(2020): 13–29.
Campbell, Y. Jeffrey. "No Sustainable Development Without Indigenous Peoples." SDG Knowledge Hub.
Crenshaw, Kimberle. "Demarginalizing the intersection of race and sex: A Black feminist critique of antidiscrimination doctrine, feminist theory and antiracist politics." University of Chicago Legal Forum 140.1 (1989); 139-167.
DeLuca, Daniele. "What Do the Sustainable Development Goals Mean for Indigenous Peoples?" Cultural Survival Quarterly Magazine. (27 March 2021).
George, Veronica. "Confronting White Privilege in the Environmental Movement." The Daily of the University of Washington. (27 March 2021).
Griggs, David, et al. "Sustainable Development Goals for People and Planet." Nature 495.7441(2013): 305–07.
Kaijser, Anna, and Annica Kronsell. "Climate Change through the Lens of Intersectionality." Environmental Politics 23.3(2014): 417–33.
Kings, E. A. "Intersectionality and the Changing Face of Ecofeminism." Ethics and the Environment 22.1(2017): 63-87.
Kirby, Vicki. "Natural Convers(at)ions: Or, What if Culture is Really Nature All Along?" Material Feminisms. Ed. Stacy Alaimo, and Susan Hekman. Bloomington: Indiana University Press, 2008: 214-236.
Krishna, Vinita. "Indigenous Communities and Climate Change Policy: An Inclusive Approach," The Economic, Social, and Political Elements of Climate Change. Ed. Walter Leal Filho. London and New York: Springer, 2011: 27-49.
Latour, Bruno. "Agency at the time of the Anthropocene." New Literary History 45(2014): 1-18.
Magallona, Diego. "Indigenous Struggles: A Shortfall of Philippine Democracy." Democratic Erosion. (27 March 2021).
Million, Dian. "Indigenous Matters." In S. Alaimo (Ed.), Gender. Ed. Stacy Alaimo. US: Macmillan Reference, 2017. 95-110.
Morgensen, Scott. "Rooting for Queers: A Politics of Primitivity." Women and Performance, 29.15(2005): 251-289.
Pillai, K. Gopinathan. "Post-colonial-Postmodern Enquiry for Human Sustainability: Relevance of Santhigiri Model." Journal of Dharma 2(2020): 189-198.
Sangha, K. Kamaljit., et al. "An Ecosystem Services Framework to Evaluate Indigenous and Local Peoples' Connections with Nature." Ecosystem Services 31(2018): 111–25.
Santos, Jonathan. "In the Abundance of Water: A Dam Project May Wash Away Generations-old Dumagat Villages." Philippine Star Global. (27 March 2021).
Stenzel, Julie Caroline. "The Sciencization of Compassion." Journal of Dharma, 3(2020): 245-271.
Subingsubing, Krixia, and Ramos, S. Mariejo "P 607-billion Clark 'Green City' to displace Aeta Communities." Inquirer.net. 27 March 2021.
TallBear, Kim. An Indigenous Reflection on Working beyond the Human / Not Human, GLQ: A Journal of Lesbian and Gay Studies 21.2-3(2015): 230- 238.
UNDP. "Philippine Tribes Empowered to Preserve Nature, Prevent Conflict." UNDP in the Philippines. (21 April 2021).
UNDP Ecosystems and Biodiversity. "Partners in Conservation." Exposure. (27 March 2021).
Viveiros de Castro, Eduardo. "The Relative Native. Essays on Indigenous Conceptual Worlds." Chicago: Hau Books. 2015.
Wildcat, R. Daniel "Introduction: Climate Change and Indigenous Peoples of the USA." Climate Change and Indigenous Peoples in the United States: Impacts, Experiences and Actions, Ed. Julie Koppel Maldonado et al. New York City: Springer International Publishing, 2014: 1–7.
Wittgenstein, Ludwig. The Mythology of Our Language: Remarks on Frazer's the Golden Bough, trans. Stephan Palmie. Chicago: Hau Books, 2018.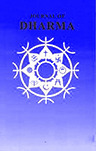 Downloads
How to Cite
Biana, H., & Rivas, V. (2021). INTERSECTIONAL ENVIRONMENTALISM: Toward an Indigenous Peoples-Inspired Planetary Ethics. Journal of Dharma, 46(2), 183–198. Retrieved from https://dvkjournals.in/index.php/jd/article/view/3492