THE FOCOLARE MOVEMENT
Origins, Spirituality and Impact in Asia
Keywords:
FOCOLARE, Spirituality and Impact, Asia
Abstract
The Focolare Movement has its origins in Trent, Italy. It began in 1943
amidst the background of the World War II. The lesson that God was
giving Chiara Lubich, the founder, then 23 years old and her youth
companions through the circumstance of the war was: "Everything is
vanity of vanities: everything passes away." It seemed that God
raised a question in their hearts: "Is there an ideal that no bomb can
destroy, for which we can give all of ourselves? And they
understood: "Yes, God." And so they decided to make God the
reason for their living.
References
www.edc-online.org
www.mppu.org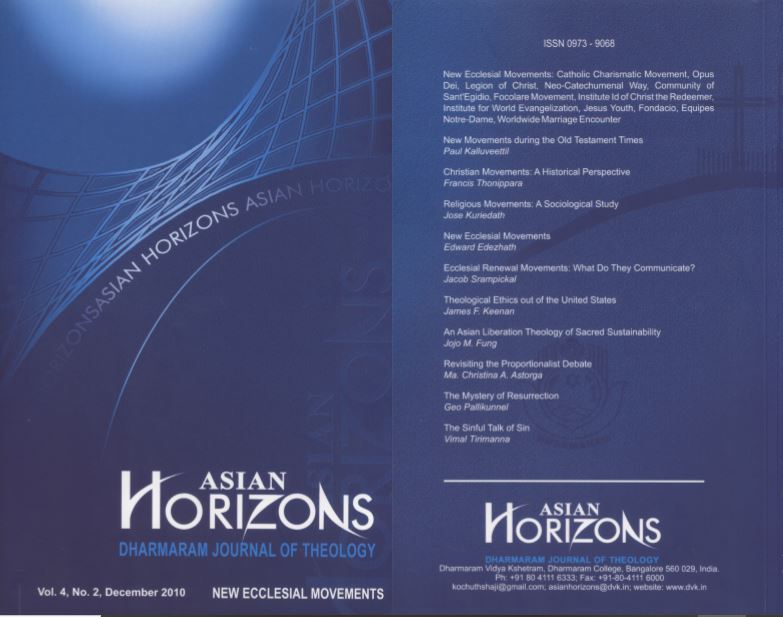 Downloads
How to Cite
Castillo, L. L. (2010). THE FOCOLARE MOVEMENT: Origins, Spirituality and Impact in Asia. Asian Horizons, 4(02), 277–281. Retrieved from https://dvkjournals.in/index.php/ah/article/view/2674