THE COMMUNITY OF SANT'EGIDIO
Keywords:
COMMUNITY, SANT'EGIDIO
Abstract
On the 10th anniversary of the Second Vatican Council, the great
theologian Yves Congar described his vision of the future of the
Church:
… the future of the Church, in my view, rests greatly on the existence
of spiritual communities animated by a great devotion to the Gospel
and to evangelical practice, to the practice of love and charity with the
greatest liberty and "sympathetic" openness to what is happening in
the world. This is the future of the Church. A future which every
community realizes, on its part, and therefore in a partial way,
certainly: we are all parts, no one in the Church is everything. But the
fact that these communities exist and that they are made up of people
who are not out of the world, but live within the current of life, seems
to me a quite important fact for the future of the Church.1
Congar felt strongly that communities in the world, "in the current of
life," were a vital way for the Church to live out the call of the
Council to be in solidarity with the world. One of the communities
which he believed was responding to this call was the young lay
Community of Sant'Egidio. In fact, it was for Sant'Egidio's magazine
"La Nostra Assemblea" that Congar wrote the article which I have
quoted above.
References
"L'apertura 'simpatica' della Chiesa al mondo." La Nostra Assemblea, II, no. 1 (February 1976).
Interview with Andrea Bartoli, New York, September 25, 2006.
Montonati, Angelo. Il sapore dell'utopia: La Comunità di Sant'Egidio. Saronno: Monti, 1999.
Andrea Riccardi (interviewed by J. Dominic Durand). Sant'Egidio, Rome and the World , London and Maynooth: St. Paul's, 1999.
Austen Ivereigh, "Changing the World Via the Crucified: The Community of Sant'Egidio." Dec. 22, 2005 http://www.godspy.com/reviews/Changing-the-World- Via-the-Crucified-The-Community-of-Sant-Egidio-by-Austen-Ivereigh.cfm. Accessed 7/10/2007.
Mario Giro, "Sant'Egidio's diplomacy of friendship." UNESCO Courier, Jan 2000.
Speech of Jane Gondwe, activist of the DREAM Program in Blantyre, Malawi, at the conference "Africa without AIDS - Just a dream?" held in Bonn, Germany, May 20, 2009. http://dream.santegidio.org/public/News/x__newsreadpubNS.asp? IdNews=761&offset=10&Curlang=EN.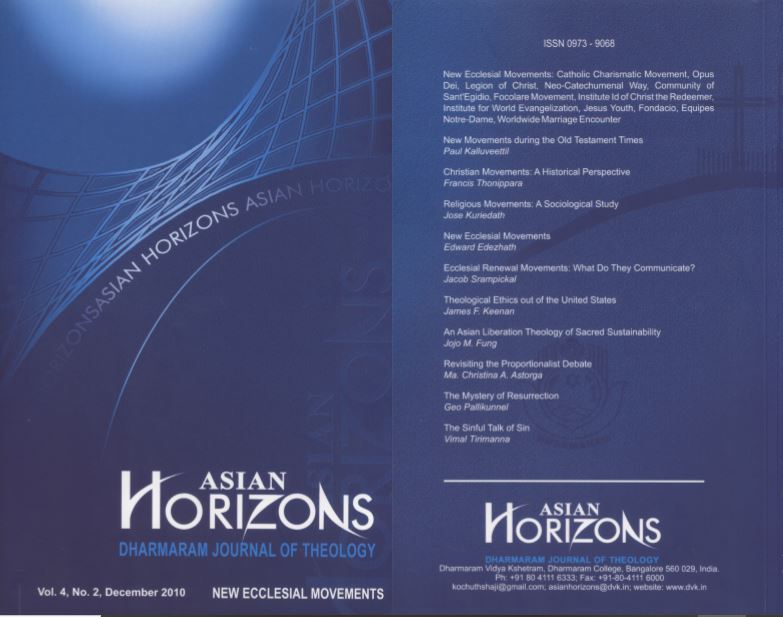 Downloads
How to Cite
Johnston, L. (2010). THE COMMUNITY OF SANT'EGIDIO. Asian Horizons, 4(02), 270–276. Retrieved from https://dvkjournals.in/index.php/ah/article/view/2669