CATHOLIC CHARISMATIC RENEWAL
Keywords:
CHARISMATIC, RENEWAL
Abstract
The Catholic Charismatic Renewal (CCR) began two years after the
end of the Second Vatican Council (1962–1965) and 70 years after the
encyclical letter of Pope Leo XIII on the Holy Spirit, Divinum Illud
Munus. It is one of the fruits of Pope John XXIII throwing open the
windows of the Church to let the strong breath of God renew the
Church. In preparation for the Second Vatican Council (formally
convoked on 25th December, 1961 and commenced on 11th October,
1962), the Pope asked all the faithful to pray for a new Pentecostal
"outpouring of the Holy Spirit". The Pope wished and prayed that a
holy wind would sweep away the deadness and release a new and
refreshing renewal in the Church. In 1967, 'a new springtime' in the
church was ushered in by the powerful and transforming experience
of a group of students of Duquesne University, run by the Holy
Ghost Fathers, Pittsburg, Pennsylvania, USA. Since then, millions of
Catholics in about 120 countries of the world have been experiencing
a remarkable spiritual renewal of their Christian lives, together with
many charismatic gifts of the Spirit. "We live in the Church at a
privileged moment of the Spirit," declared Pope Paul VI in 1976 in
the Apostolic Exhortation, Evangelii Nuntiandi, foreseeing the
springtime in the Church.
References
Pope John Paul II, L'Osservatore Romano.
Catholic Bishops' Conference of the U.S.A – Pastoral Statement on the CCR 1984.
John Paul II, Audience with the ICCRO Council, Rome, 14th March,1992.
John Paul II, Message to the Catholic Fraternity of Charismatic Covenant communities and Fellowships, Rome, 22nd June, 2001.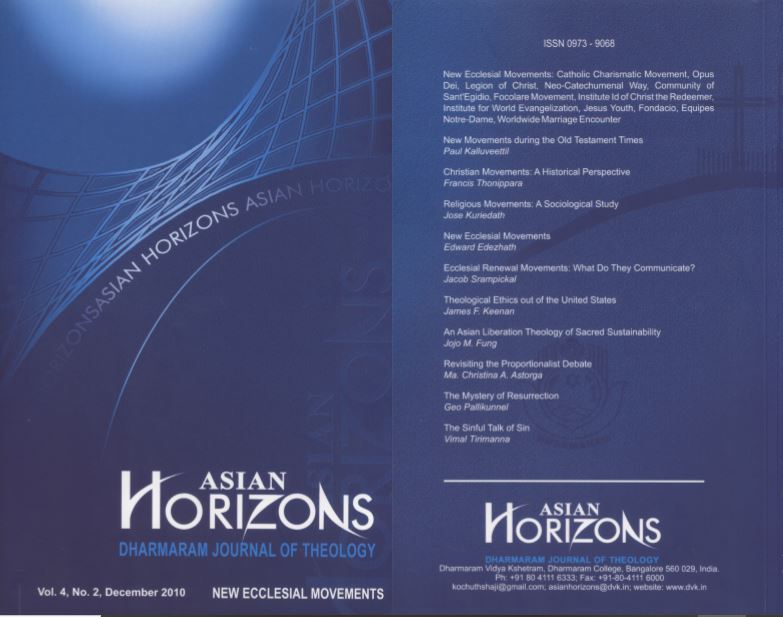 Downloads
How to Cite
Fernandez, C. B. (2010). CATHOLIC CHARISMATIC RENEWAL. Asian Horizons, 4(02), 250–253. Retrieved from https://dvkjournals.in/index.php/ah/article/view/2645